Let's have a party tonight
Enjoy great parties we've prepared for you
Please, register for each party as there is a limited capacity. If the maximum capacity of the registered attendees is reached you can add you to the waiting list. It's very likely that you will get to the party from the waiting list. Just show up among the first comers at the venue when the party will open the doors for the attendees from the waiting list.
However we can't guarantee you the access to the parties without registration, so be sure you register yourself.
You can reserve a place in any concurrent party without being afraid to be removed from the previous one.
Download WebExpo Calendar in iCal or add the WebExpo Calendar to your Google Calendar not to miss the parties.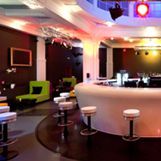 Thursday 9/19 19:30
Opening Reception
Fusion Hotel Prague, Panská 9, Praha 1
Let's warm up before the conference begins!
Get together with conference attendees and speakers. Get into the right mood in the beautiful design bar with the only 360° rotating bar in Europe. Would you like to network at the bar or dance on the street? Try the silent disco to refresh your body and soul. And we can't even mention the big surprise…
Dress code: At least one color from the WebExpo logo.
Waiting list entrance: from 20:00
Capacity: 250 people.
Food: Reception for 250 people.
Drinks: Open bar up to 25 000 CZK with beer, wine (red, white), cuba libre, tequila sunrise, mojito and non-alcoholic drinks.
Program:
19:30 Opening
21:00 Surprise!
From 21:30 Silent Disco, DJ David Šmehlík
Join us also in the facebook event.